Georgette Raffe (G. Raffe) has been living her best life, making influencer stops all over Bayport, Blue Point and Patchogue, and even made a trip into New York City!

On Monday, May 10, Georgette was treated to a luxurious day at the trendy and tranquil studio spa Radianz, in West Sayville's pastoral Green House.

Master esthetician, beauty guru, and most glamorous woman in Bayport, Franziska Bernhard, pulled out all the stops for Georgette's premium facial to brighten Georgette, who was weary from her travels.

"She has just been feeling rundown. So many changes in her life," said Bernhard. "I gave her a customized facial lymphatic drainage, followed up with cooling eye pads to reduce puffiness. She did need exfoliation and some extractions. The green tea clay mask really calmed the skin and chakra balancing and grounding her. She was like a brand-new giraffe after."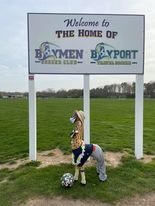 The oversized stuffed animal was spotted on the curb to be collected for garbage pickup by local mom Sal Makely, who built an instant rapport with the friendly giraffe. "I saw this big, goofy giraffe on Academy Street in Bayport… I knew exactly where I would put it… [the homeowner] sent out a Facebook post on the Bayport Blue Point Parents' page and the amount of likes and all the comments were just hilarious to read. It became famous in no time."

Now, parents are asking for "G" (at one point, Georgette was named Geoffrey and is now gender-fluid) to make celebrity appearances on their doorstep as a whimsical surprise for their children.

"G" has been to baseball, lacrosse and soccer games, Tina's in Patchogue, the streets of New York City with New York Flower Guy, Academy Elementary School, and even helped the Bayport-Blue Point Heritage Association open Meadow Croft for the season.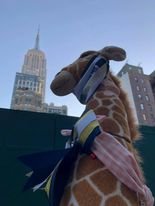 "It was only through pure serendipity that I met my best friend," said Makely.

"G" has even become a humanitarian figure, as the mascot for a fundraiser run by Makely in honor of her daughter, 16-year-old high school student, Okiah Makely.

For a $20 donation to the Stony Brook Cancer Center, families can spend a day with "G."

"That individual or family then delivers G. Raffe to the next nominated host," said Makely. "We encourage each host to take photos and post on the Bayport Blue Point Parents' page and share the love, smiles, and their experience with G. Raffe."

Details for the G. Raffe sponsorship will be announced on Friday, May 14.