Islip's National Association for the Advancement of Colored People will consider pursuing a lawsuit against Islip Town if town representatives fail to appropriately modify its current districting plan prior to the 2021 town elections.
Islip's district plan was created last year following the federal lawsuit Flores v. Islip Town , where Latino residents and two New York-based advocacy groups alleged that the previous "at-large" system of electing town council members denied Latino representation on the Town board.
The local NAACP has created a revised councilmanic district map at a Zoom forum on Wednesday, Feb. 17. Members plan to bring the new plan before Town officials soon.
Under the current redistricting plan, the Town will be split into four council districts, each represented by one town board member. Each district is required to maintain a similar numeric population, according to the October 2020 settlement.
The plan splits the hamlet of Central Islip, which has the highest percentage of African-Americans, between three of the four districts. Islip NAACP president Bill Moss said he believes this division undermines Black voters in the hamlet.
Central Islip houses the highest number of Black voters throughout Islip Town, NAACP member Marvin Smith said, and the hamlet is primarily democratic for that reason. He believes the map was intentionally split into three districts to retain as many Republican votes as possible to maintain a majority rule on the Town Board.
"This cracking is designed to make permanent the power of the incumbent party in the town of islip, to deny representation of choice to a large block of Black voters and those of similar interests," Smith said.
Vincent Vertuccio, co-chair of Mobilize Suffolk Blue, said that the redistricting plan fails to establish communities of interest, broadly defined by areas with different cultures and ethnic-makeups. Instead of preserving communities with similar characteristics (school district, zip code), the map splits these communities.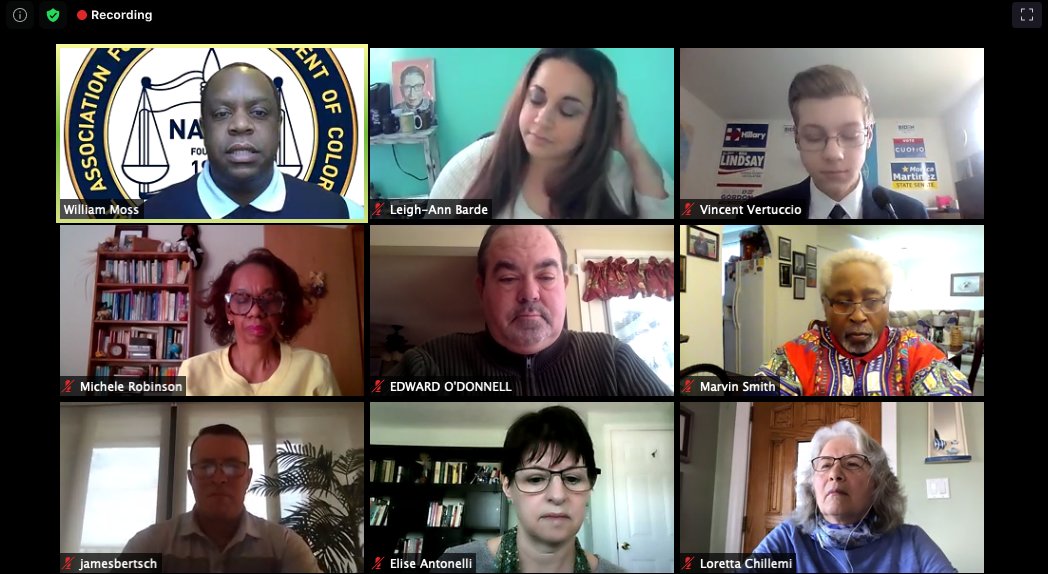 Islip NAACP members discuss issues with the current district map at a Zoom forum on Wednesday, Feb. 17.
Vertuccio noted that there are no cultural or ethnic similarities between hamlets like Sayville and Central Islip, yet they will sit in the same district.
"What this map does is dilute the voting power of Central Islip," Vertuccio said, "and that affects the power of underrepresented, marginalized communities to elect their representative …. And [it] damages their ability to advocate for themselves as a community."
Central Islip is roughly 24 percent Black, 23 percent White, 4 percent Asian, 2 percent mixed race and 47 percent Hispanic, according to data from Census Reporter.
The Town's redistricting plan also separates the communities of Sayville and West Sayville into District 4 and 2, respectively. At the meeting, Dr. James Bertsch of Sayville Citizens for Political Activation referred to the two hamlets as "twins."
"We don't want them separated, we don't want these people divided," he said. He added that he believes that the council lines were created to benefit elected officials.
"We pay the highest taxes in the country, and we have our officials putting the government to work for them," Dr. Bertsch said. "If these lines were about serving us as they should be, we would follow some sort of methodology – whether it be school districts lines or fire district lines – something that supported representation for citizens and for voters."
Over 20 years ago, Hempstead attorney Frederick K. Brewington challenged Hempstead Town for its "at-large" system and won. In the Flores v. Town of Islip case last year, the settlement benefitted the party that Brewington represented.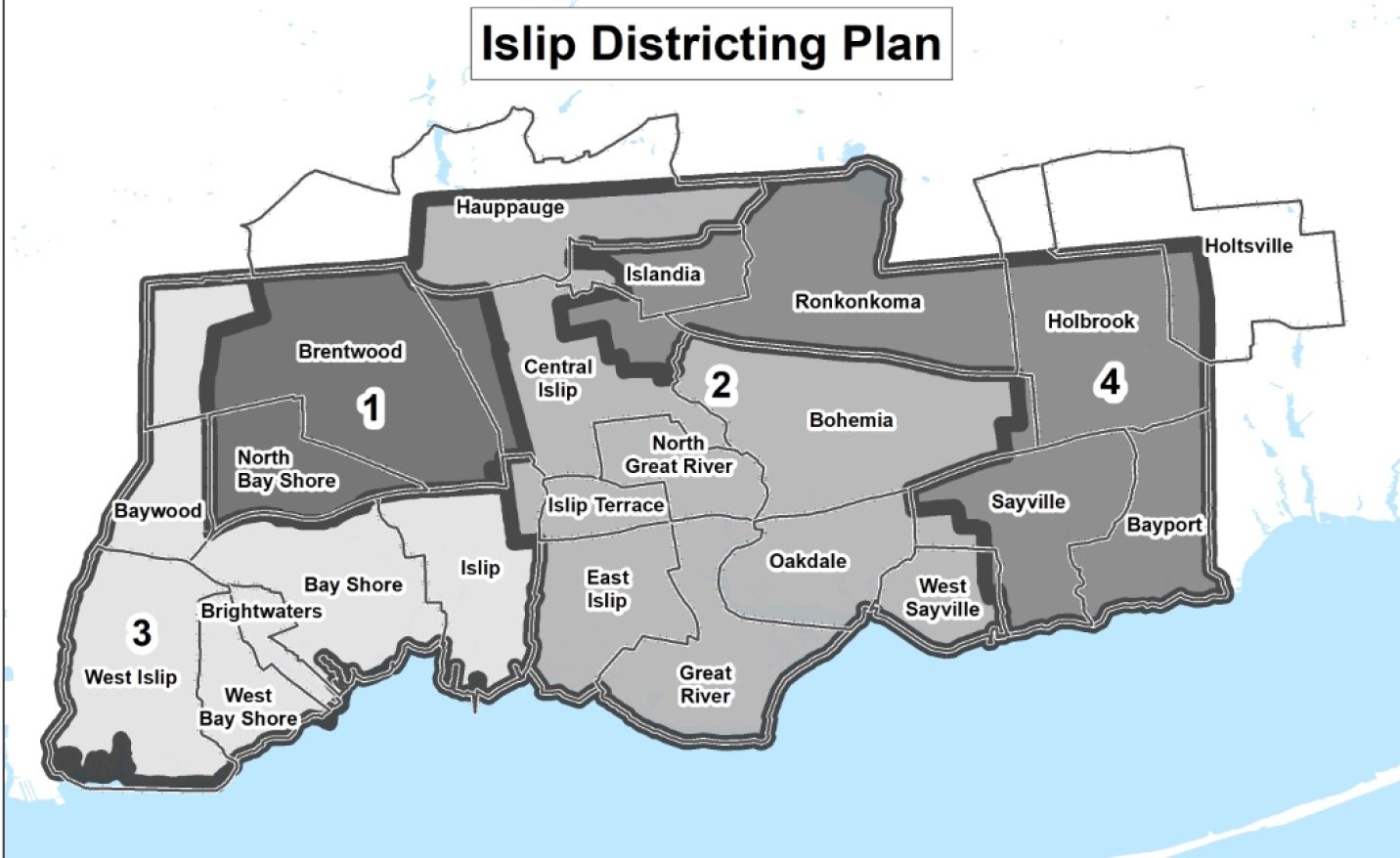 Islip Town's current districting plan, which divides Central Islip and similar hamlets like Sayville and West Sayville.

Smith said had town officials considered the result of the Hempstead case, they could have anticipated a loss. Yet the Town managed to "use $3 million in taxpayer dollars" before they cut their losses, he said.
"If we do not stay on them, the same thing is going to happen," Smith said. "They just wanted to take care of one area of the Town, and that was it."
Ed O'Donnell of Sayville Citizens said the NAACP's revised plan was created by customizing the Court-directed map.

He said the revised option provides a more even distribution of registered voters across the new council districts. It provides a greater voice to minority groups, too, he said, by putting a greater concentration of African-Americans and Hispanic individuals in District 2 and 3 rather than spreading these individuals across all districts.
This week, Sayville activists are expected to meet with councilwoman Mary Kate Mullen, who would represent District 4 if she chooses to run again. Bay Shore-Babylon Women's Huddle, which joined NAACP's effort to analyze the districting plan, is expected to meet with councilmembers in the near future.
Moss said the group is working to organize a Zoom meeting with Town Supervisor Angie Carpenter and town board members to further discuss the district plan.
Islip is the third-most populous town in New York State and is 10.2 percent Black or African-American, according to the U.S. Census Bureau.
The Town of Islip declined to comment on this story.