The practice was first introduced to Bayport by pastor Dave Czeisel, who was inspired by pastor Bob Liebold at his previous church in Bayville.
"Even before the pandemic, patrons expressed their gratitude for offering a way for the homebound or injured to be able to drive up, receive their ashes, and head home," said Czeisel.
Throughout the entire pandemic, Czeisel has worked with tech-savvy congregants to offer his parishioners the steady and dedicated worship they have grown accustomed to.
While there is live video on Zoom of Sunday services, YouTube videos are also incorporated so that congregants can worship with their family on their own time later in the week. Adhering to strict occupancy protocols, the church has reopened in-person services, but is still streaming for those unable to join, such as the infirm, who Czeisel has been particularly inventive to include with window visits.
For the drive-up ashes, the entire team was masked and Czeisel's daughter, Stina, handed out sealed containers of ashes inside a small bag that contained miniaturized versions of the prayer stations normally used at the former 7 p.m. service.
Between noon to 4 p.m., over 70 people drove through to receive their ashes.
"Rather than applying the ashes myself, Sue and Diane Richon and I would explain the meaning of Lent to each person, lead them in a short prayer for forgiveness, and invite them to draw the sign of the cross in ashes on their own forehead," said Czeisel.
While now a staple of the Bayport Methodist Church, as a whole, the United Methodists originally avoided the practice of using ashes to mark the beginning of Lent. The church reclaimed the practice 40 years ago, Czeisel said. "When we apply ashes to our foreheads, we have to remind ourselves: 'Remember that you are dust, and to dust you shall return.' By reciting these words from Genesis 3:19, we remind ourselves that while our time on Earth is short, there is still time to grow and be transformed in Christ."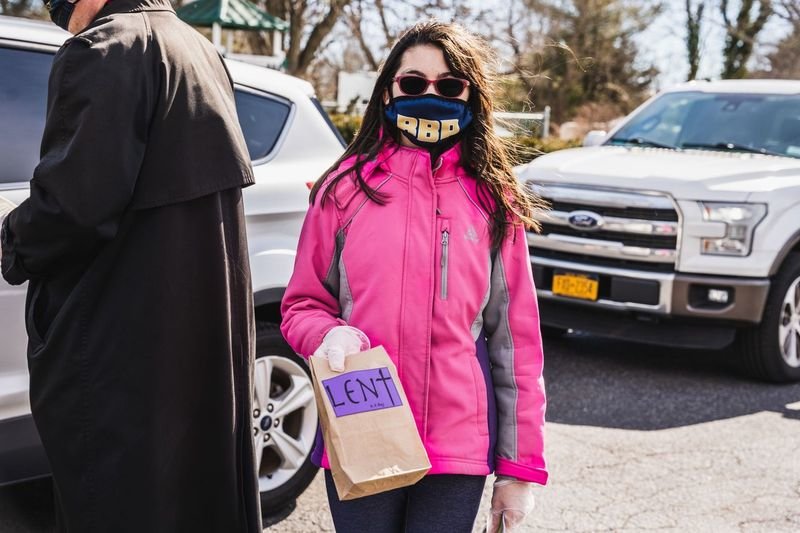 Congregants bear this scripture in mind as they begin 40 days (not including Sundays) of the Lenten season.
In previous years with in-house service, the Bayport church teamed up with sister Methodist churches to make use of their prayer stations erected around their parish hall.
While not confirmed, it was obvious that many attendees for the drive-up ashes came from other churches, with some "we just met at the deli that morning," said Czeisel.